SITUATED IN THE HEART OF CLARE, MR MICK CELLAR DOOR OFFERS A RANGE OF WINES FOR TASTING SEVEN DAYS A WEEK.
Mr. Mick Cellar Door
Conveniently located in the heart of Clare adjacent to the Riesling Trail at 7 Dominic Street, Clare, our cellar door is open daily from 10.00am to 4.30pm.

Visitors can enjoy a tasting paddle of 5 wines from our extensive range of different styles, including new and different varietals such as Vermentino, Pinot Grigio, Grenache and Tempranillo, or more traditional wines like Riesling, Cabernet Merlot and Shiraz. The tasting experience is $10 per person which is redeemable on purchases of 2 or more bottles.
Bookings are required for groups of 10 or more guests.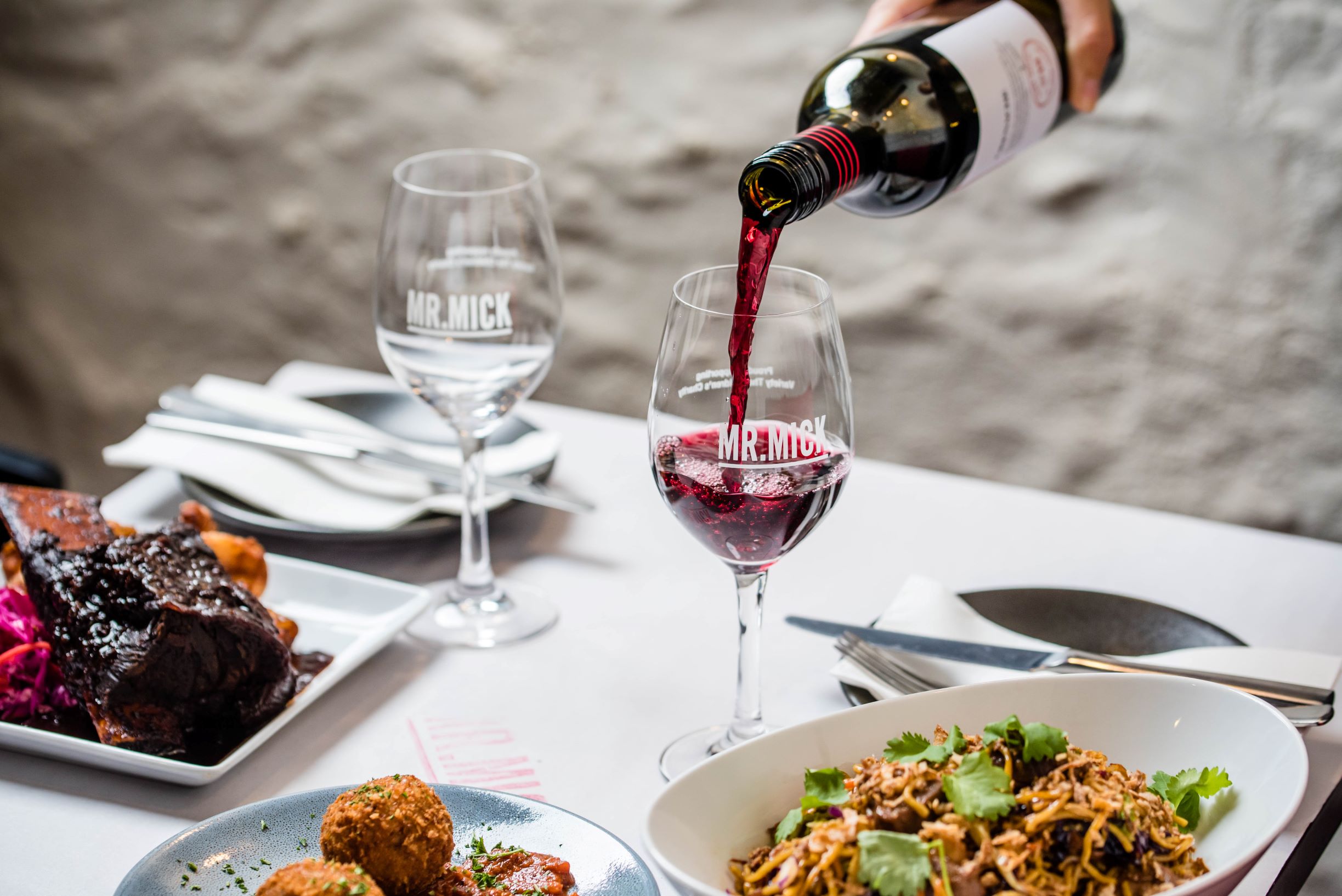 Mr mick kitchen offers a unique restaurant and wine experience, embracing tapas-style dining.
Indulge, explore and savour superb food and wine combinations in a casual and contemporary atmosphere. Tapas is a social experience that celebrates the union between food, wine and friends. The philosophy is simple; share a number of small dishes and explore food and wine combinations. Alternatively, let our Chefs and winemakers select for you, by choosing the Chefs Selection ($60 per person) matched to a selection of wine chosen by our winemakers ($20 per person).
Mr. Mick Kitchen
Open for lunch daily from 12pm.
Dinner available from 6pm on Friday evenings. 
Phone (08) 8842 2555 or book online to secure your reservation.

Please note; we are unable to provide inside or courtyard dining to guests who have their dogs with them.
Only the lawn area is available for leashed dogs and must be booked in advance.
Mr. Mick Kitchen Summer Menu
Lunch daily from 12pm and Dinner from 6pm on Friday evenings.
STARTERS
BREAD  House made focaccia ŵ local olive oil & Mr. Mick dukkah  $9
DIPS  Beetroot and onion relish, Butter bean & sundried tomato ŵ warm pita  (GF DF VG ava)  NF $12
OCEAN
SQUID  Lemon myrtle squid ŵ chilli jam GF DF NF $19
CRAB  Paprika spiced soft shell crab ŵ pickle vegetables & chilli dipping sauce  GF DF NF $25
BARRAMUNDI  Saltwater Coral Coast barramundi ŵ steamed beans & coconut curry sauce GF DF NF $27
TUNA  Port Lincoln blue fin sesame crusted seared tuna ŵ ponzu mayo & seaweed salad  GF NF $26
FARM
CHICKEN  Greenslade free range soy chicken ŵ rice noodle & mango salad ŵ Thai dressing GF DF NF $26
DUCK  Confit duck leg, ŵ beetroot & orange salad ŵ citrus vinaigrette GF DF NF $27
HARRISA LAMB CUTLETS (2) ŵ garlic and rosemary & cherry tomato & basil salad ŵ chimichurri GF DF NF $29
PORK (2)  Twice cooked pork belly ŵ pineapple & chilli relish  GF DF NF $25
BEEF SPICY KOFTAS ŵ cucumber salsa & tzatziki  GF DF NF $25
VEGETARIAN
CROQUETTE (2)  Pea & Feta ŵ mint yogurt NF $14
ARANCINI (2)  Saffron & mozzarella ŵ basil aioli  (GF & NF ava) $14
PUMPKIN PATTIES (2) ŵ beetroot and onion relish GF VG $15
HALOUMI  ŵ watermelon, rocket & balsamic glaze GF NF $16
GARDEN
GREEK SALAD  Tomato, red onion, cucumber, capsicum, Kalamata olives & feta ŵ Greek vinaigrette  NF GF (VG ava) $16
BLACK BEAN SALAD  ŵ roasted sweet potato, roasted capsicum, chargrilled corn & rocket ŵ citrus vinaigrette GF NF VG $16
PATATAS  Twice cooked crispy potatoes ŵ aioli or tomato chutney GF DF NF (VG ava) $13
STEAK HOUSE CHIPS  ŵ tomato sauce or aioli  DF NF VG $13
GF - Gluten Free DF - Dairy Free NF - Nut Free  VG - Vegan
DESSERT
DESSERT OF DAY  Please ask staff for details  $12
CAKE  Chocolate cake served ŵ raspberry coulis, coconut yoghurt     GF NF DF VG  $12
CHURROS  Spanish doughnuts dusted ŵ cinnamon sugar, served ŵ two dipping sauces NF $12
SORBET  A trio of fruity sorbet  DF VG $12
AFFOGATO  One shot of espresso coffee & one scoop of ice cream  GF NF $6
AFFOGATO  ŵ a shot of Mr. Mick Tawny  GF NF $14
KIDS
CALAMARI  Salt & pepper calamari ŵ chips & tomato sauce (GF ava)  $14   
SCHNITZEL  Chicken schnitzel ŵ chips & tomato sauce $14   
PASTA  Napoli sauce & pasta ŵ cheese (GF ava) $14
CHIPS  Bowl of chips ŵ tomato sauce $7 
ICE CREAM  ŵ choice of topping $8
COMBINATION  Choice of meal, ice cream & a pop top juice $21              
PHONE (08) 8842 2555                                   7 DOMINIC STREET CLARE