"MR. MICK, MY MENTOR AND FRIEND WAS A LEGENDARY AUSTRALIAN WINEMAKER. HE WAS PASSIONATE ABOUT MAKING WINES FOR EVERYONE TO ENJOY. WE ARE DELIGHTED TO CONTINUE THIS TRADITION IN HIS HONOUR." - TIM ADAMS
Mr. Mick Wines, Cellar Door and Kitchen
Mr. Mick Wines, Cellar Door and Kitchen are named after the late K.H.
(Mr. Mick) Knappstein, an Australian winemaking legend and Tim Adams' mentor and friend. Tim and his wife Pam purchased the historic site at
7 Dominic Street, Clare in late 2010 and set about reinvigorating the picturesque property into a successful winery and Clare tourist attraction, that now houses a renowned restaurant, cellar door and gallery.

Winemakers Tim Adams and Brett Schutz continue Mr. Mick's philosophy of making "affordable wines for everyone to enjoy", introducing consumers to new and different varietals, as well as crafting fine quality traditional wines.

Guests can also enjoy tapas style dining in the Mr. Mick Kitchen whilst looking at famous artwork by the late Murray Edwards.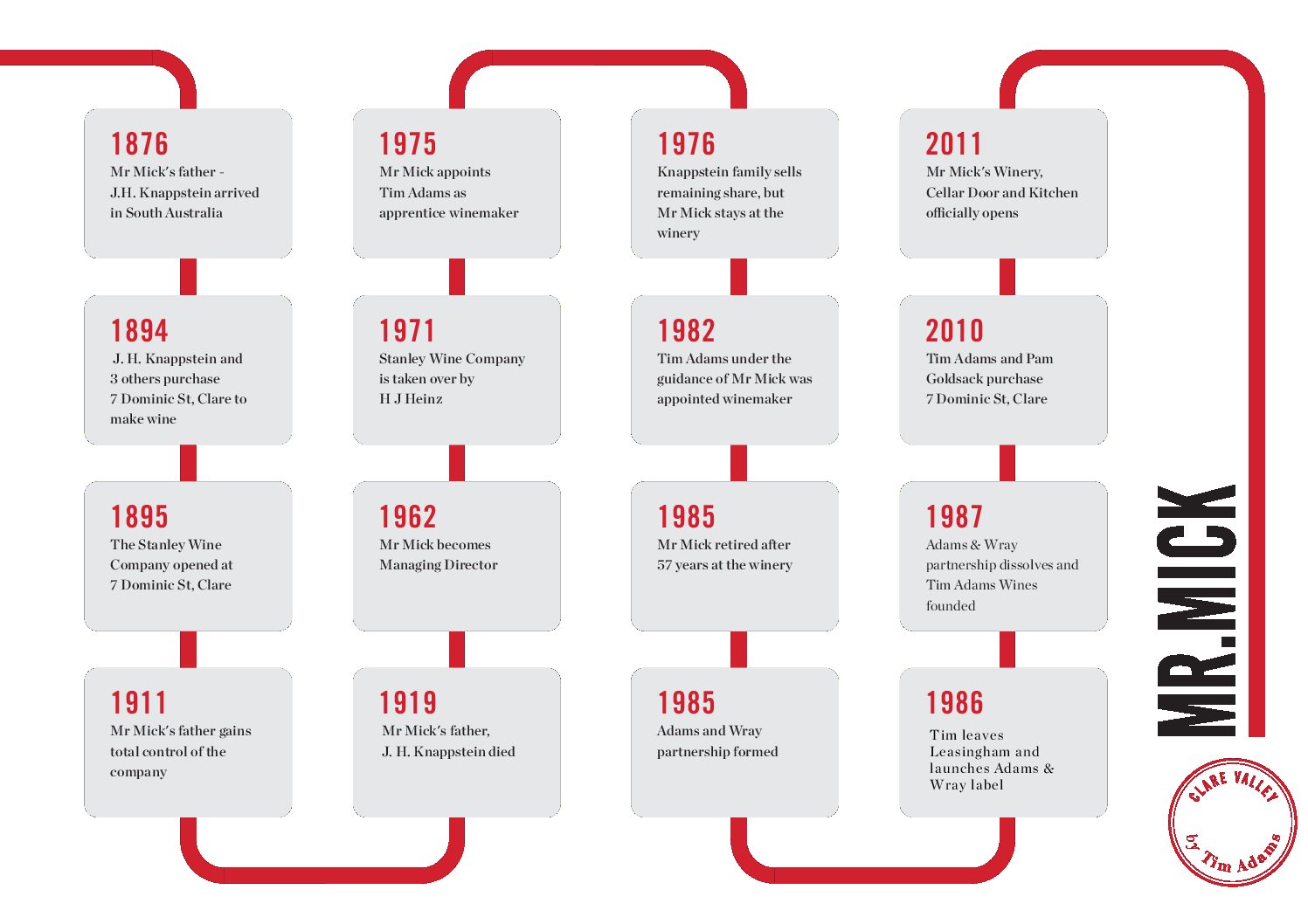 A HISTORY OF THE STANLEY WINE COMPANY AS TOLD BY MICK KNAPPSTEIN
"In giving a history of the Stanley Wine Company it is necessary to record the reasons for such a venture starting.
Grapes were grown in the Clare Valley since the early 1840's with the explorer, John Horrocks planting the first vines at Penwortham. Edward John Gleeson (the founder of Clare) also planted approximately 800 vines at Inchiquin in the 1840's.
The early settlers planted many plots and made their own wine with the surplus sold as harvest wine. An upsurge in vine planting in the Clare area occurred after the Government of the day received a glowing report on the possibilities of viticulture in the area.
As a result many small vineyards were planted, the main ones being J.H. Knappstein, John Hope and Christison.
Joseph Herman Knappstein arrived in the colony of South Australia in 1876 from Germany – he was 18 years old. After travelling within South Australia, taking on a variety of jobs, my father finally settled in the Clare area where he set out to become a merchant.
Initially he hawked fruit to the German settlers on the Blyth Plains and being a very astute man he soon built up a large holding, including an orchard and an export apple and pear business.
In the 1880's he married Ruth Reed and the couple produced four sons – Phillip, Otto, Frank and Fred. In the early 1890's there were already 150 acres of vines in the Clare Valley.
Christison, one of the larger growers, could see a need to process the grapes, and as a consequence approached J.H Knappstein, Otto Wein Smith and Magnus Badge (a local solicitor) to establish a winery.
In 1894 the four men contributed £350 each to purchase the recently failed Clare Jam and Preserving Works and proceeded to establish the necessary equipment for winemaking.
By this time my father had expanded his vineyard planting, making him the largest grape contributor to the new company. The planting programme accelerated after the war, with land being purchased at Watervale and Riesling, Shiraz, Mataro and Grenache planted. 
Much of the wine was exported to Britain as the outlet for red wine in the colony was limited by the small population.
Following Ruth's death, my father relocated to Western Australia and set up a very successful ships chandlers business in Fremantle.
In the late 1890's he met Mary McKay who also came from Clare but had migrated to the west with her parents. Mary and Joseph married and over time their family grew to seven sons and two daughters. They were Bob, Archie, Bernie, Alec, Clem, Jean, Karl (known as Mick), Marie and Bill (known as Hugh).  
In 1902 my father sold his business in Western Australia and returned to Clare to take charge of the Stanley Wine Company, due to a crisis in the export side of the business.
He travelled to London and proceeded to open up new markets for the company. J.H. Knappstein returned to South Australia by 1909 and by 1914 had bought out the other three partners in the Stanley Wine Company.
Just three years later, in 1919 my father died leaving behind a young family and the business was entrusted to the management of Elders. In 1935, when the time approached for the family to take control of the business again, we took action that was to be the salvation of the company.
An old batch of vines (the first that were planted by my father) had deteriorated to the point that only 4-5 tonnes were produced from the patch. As these vines made the best wine it was always thought that we should plant more of them. Otto and the board had selected cuttings from the best vines and had planted 14 acres by 1936/37. These vines are what are known today as Riesling.
In 1938, after Bill turned 21, the company was returned to family hands.
Fred had died in 1938 and Bernie took over as wine maker-manager, but in January 1954 Bernie himself died of a heart attack. Bernie's death was seen by the family as a disaster for the company, but the employment of Bill Chambers, a young wine maker fresh out of Roseworthy proved fortuitous for Stanley.
In 1954 the wine industry experienced a slump, but the Stanley Wine Company purchased another piece of land at Leasingham, planting almost all 50 acres with Riesling. In 1954 Stanley also became involved with supplying wine to Lindemanns.
After Bernie's death Alec became winery manager, with Otto still chairman of the board.
With younger family members on the board it was decided to expand both outside and within the cellar.  Stanley had taken advantage of the new white wine making technology developed by Gramps and adopted refrigeration, controlled and closed fermentation techniques, which aimed to get wine from the vine to the bottle as quickly as possible. As a result the quality of the wine improved markedly.
Producing a superior product, Stanley Wines were very much in demand from other wineries who were slower to introduce progressive planting and winemaking technology.
In 1954 the Stanley Wine Company purchased another 200 acres of land at Leasingham and the planting program continued apace. We were selling more and more wine to Lindemanns, Penfolds, Seppelts and Seaview as we had the product they needed but they didn't yet have.
In 1958 Bill Chambers returned to Rutherglen to run his family business and Peter Weste was appointed as winemaker.
In 1962 Alec died and I (Mick) took over as managing director. During this time we encouraged our growers to plant more suitable varieties and increased our own planting. Production increased enormously and we were able to supply a large section of the industry with the varieties that they lacked. This was one of our big successes.
In 1967 Tim Knappstein joined the staff at Stanley as winemaker. He proved to be a very good winemaker and still is. We must be grateful to our winemakers for the fortunate situation in which we found ourselves prior to selling.
We eventually sold to H.J. Heinz in 1971, Tim Knappstein was kept on as winemaker and I was retained as manager / managing director in an amicable outcome. Though I retired in 1976 I was asked to stay on as consultant until the mid 1980's. 
Over the years, through family co-operation and the strength of the board, the company was able to achieve great success.
That is the history of the Stanley Wine Company, as I see it. "
In 1987 Mr Mick received an Order of Australia for services to the wine industry.